The last twenty-four hours were some of the most exhausting and exhilarating since we came to live at Bonniespring. Sophia, one of our pregnant cashmere nanny goats, went into labour on Friday afternoon, and gave birth on Saturday to a healthy baby girl, whom we have named Dorothy!
We knew Sophia was in her five day window, due to "kid" at any moment, so we were prepared with towels, rubber gloves, iodine, and clean water. We even installed a baby monitor in the kidding pen where she was staying, so that we could listen in 24/7 for sounds of distress. We ended up not needing it, because I (who have never seen a live birth before) was just going into the barn when she started to give birth. I knew I couldn't handle it on my own, so I ran up to the house yelling for Darcy!
Sophia cried out in pain for a couple of minutes, but Darcy came to the rescue. Once we saw the little nose and hooves sticking out of her, he helped to gently pull the new little girl out of her mum, so it didn't last very long. It was a beautiful moment, witnessing a miracle which I will never forget.
We knew it was extremely important for little Dorothy to get colostrum (really nutritious milk) into her system within her first hour after birth. As advised, we tried to help her find her mother's teat, but for some reason, mother and baby were having trouble. The more time went by, the more concerned we became, because Dorothy's strength to feed and survive, and the well-being of her immune system and vital functions would be impaired if she did not get that milk in her. Darcy had only that morning finished building a milk stand, just in the knick of time. So, we brought it into the pen, put Sophia up and milked her, trying at the same time to give Dorothy a taste of the milk and get her started, again to no avail. Finally, we filled up a baby bottle and fed her the milk ourselves, which Baby Dorothy gladly drank!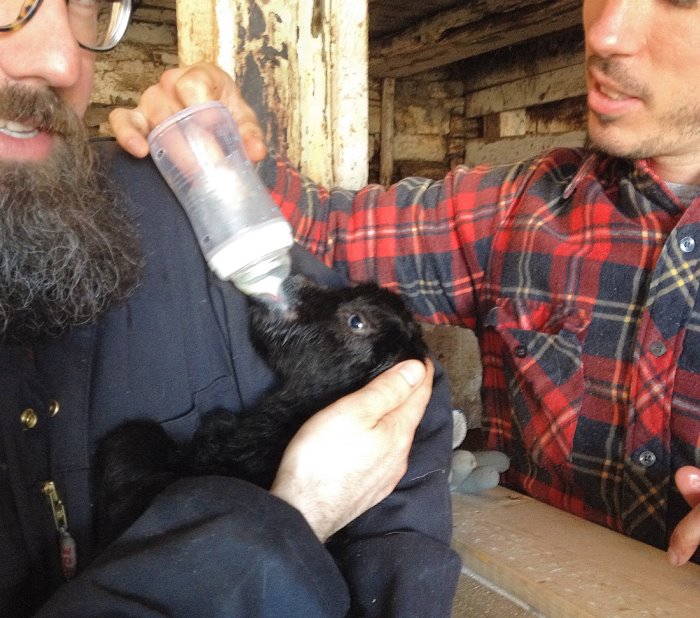 This was only the beginning of a very long day, trying to get baby to nurse, and get mama to let her. Sophia was very affectionate and doing a great job at being a mom, licking her baby and tending to her constantly. This was actually getting in the way though, of Dorothy finding her teat! Every time the baby got to Sophia's back end, and came close to the teat, Sophia would rotate around and start licking her. So we tried holding them both in place, the way the experts tell say to do, and squirt a bit of milk directly into her mouth to get her started, but time and again she didn't make the connection.
Saturday night we divided up into shifts, so I stayed up until 1:00 am and went down to feed Dorothy, then Darcy went at 4:00 am, I went down gain at 7:00 am, and so on. We've heard about the long exhausting nights new parents go through when they have a newborn, and now we have a taste of what it's like. This went on until finally around 10:00 am, when we put the two of them outside in the beautiful sunshine, and Mother Nature did her work. Somehow, the streaming sunlight stimulated Dorothy's instinct, and set her directly upon Mama Sophia's teat. As we watched together, and saw her eagerly nursing away, we both started crying.
We are happy to say that Dorothy has continued to nurse, and in fact won't leave poor Sophia's teats alone! Now we have 24/7 cuteness around here, with Dorothy exploring everything, learning new skills, and even showing off her jumping skills already. We found one new thing about having a baby goat, which is that we no longer have to worry about herding the others from one location to another. They go wherever the baby goes! If you pick up Dorothy, Mama Sophia quickly follows, with Auntie Rose trailing behind her, and Milo sure to be not far behind.
We are so blessed to have this new precious life among us, and we welcome Dorothy to our family. We're sure you will love her as much as we do. Stay tuned for more about this little one, and her antics!