While founding a lavender farm, we are also re-establishing a homestead. We have come to the country to pursue a more sustainable life, based on principles which match our values, rather than the ones that become inevitable when you live in the city.
It will take time to develop self-sufficiency on a homestead farm, but there are so many resources today. There is both a local and worldwide community supporting the kinds of things we hope to do, so we have confidence that we can learn from others and teach ourselves as we go. This is why we are attending workshops, joining associations, and learning about sustainable farming, artisanal methods, and ways to draw energy from renewable sources. Part of this is exploring agriculture from a "restorative" perspective, to learn about traditional, open-pollinated seeds, how to plant and grow things with the most positive impact on the soil, and to improve rather than diminish the land. This may include vermiculture, learning to waste nothing and produce little to no garbage, something that has already been practiced at Bonniespring for many years. The animals enrich our lives and we put their welfare, and respect for their dignity, at the heart of our working farm.
SEED SAVING
We are honoured to be serving on the Strategic Planning Committee of the Kingston and Area Seed System Initiative (KASSI). Seed saving is the agricultural practice of saving seeds and tubers from vegetables, grain, herbs, and flowers, for use from year to year for annuals and nuts, tree fruits, and berries for perennials and trees. Grassroots seed saver organizations have grown to help resist the shift in our society towards factory farming and commercial seed suppliers, which minimize varietal diversity, and hybridize or clone plants that do not produce seed. 
Open pollination is an important aspect of seed saving. Plants that reproduce through natural means tend to adapt to local conditions over time, and evolve as reliable performers. This is the traditional way farms and gardens were maintained. We look forward to promoting a vibrant future for seed saving in our area. 
If you are a seed saver, or if you participate in Community-supported agriculture (CSA), we want to connect with you! Please contact us at secretfieldlavender@gmail.com. In the coming year, we hope to become an active part of the community in Kingston. We are eager to join up, jump in, and help "plant seeds for the future" along with our friends from KASSI and CRAFT Kingston.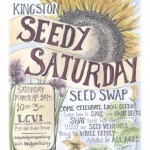 PAST EVENT
Had a great time meeting others in the seed saving community, at the Seedy Saturday event, March 14th 10am-3pm at LCVI in Kingston.
COMMUNITY SUPPORTED AGRICULTURE
We are learning about CSA and will share more information here.