WELCOME TO BONNIESPRING FARM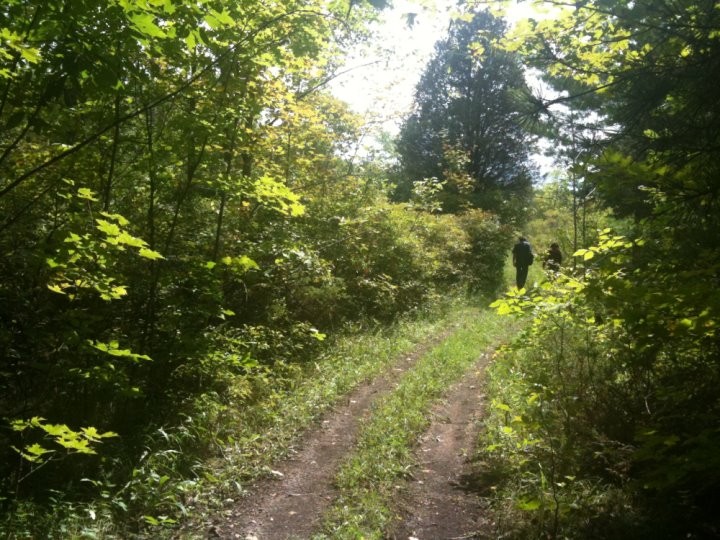 Bonniespring is the name of a farm in rural Kingston, Ontario that has been the homestead of the McNinch family for four generations. It has come to include multiple sites along Middle Road, with over 200 acres of forest and field. The name "Bonniespring" comes from the beautiful spring that bubbles up from the rocks behind the 19th century farmhouse, and runs as a whimsical creek in the surrounding woods.
Part of our project in creating Secret Field Lavender will be to celebrate and honour the past, and commit to the active celebration and preservation of our local history. We aim to build on the past, and preserve traditional and artisanal methods for the future, while celebrating the shared legacy of our home, farm, and family, at every opportunity.
We will be adding to this section of the website to not only chronicle the history of Bonniespring Farm, which we hope to do with an interactive map and timeline, but also to explore topics in the history of the area. Many farms on Middle Road, just like Bonniespring, still have the descendants of families who lived in the area a century ago. There are so many connections going back to the pioneer days of Canada's past, and we hope to raise awareness about the unique and special place. Although the area is now considered part of Kingston, it was originally called Pittsburgh Township. See below for a bibliography for Pittsburgh Township
Pittsburgh Township, 1783-1948 : an annotated bibliography of history sources, by Mark Cox and Geraldine Proudfoot for Pittsburgh Township Historical Society.
Lilacs and Limestone: an Illustrated History of Pittsburgh Township, 1787-1987, by William John Patterson.
A History of the Township of Pittsburgh, Frontenac County, Ontario, compiled by the Pittsburgh Women's Institute.
A Collection of Talks of Historical Interest [series] : Pittsburgh Historical Society.
History of the Smith family of Pittsburgh Township, by John Garrison Smith.
Excerpts 1922 – 1967 from the personal diary and scrap-book of Marion [sic] Patterson MacLean.
A history of the township of Pittsburgh, Frontenac County, Ontario, by the Pittsburgh Women's Institute.
Tweedsmuir History of Pittsburgh Township, by the Pittsburgh Women's Institute Tweedsmuir History Committee.
County of a Thousand Lakes: the History of the County of Frontenac, 1673 – 1973, by the Frontenac County History Committee.
Your County Has a Past, by Alice E. Hogeboom. (No index.)
This section will feature information about hosting a wedding or other celebration in the beautiful setting of a historic homestead farm, with over 200 acres of forest, and soon, surrounded by fields filled with lavender. Although we are just starting, we want to develop an agri-tourism destination and event space, and this is why we approach all of our projects with aesthetics in mind from the beginning. Please check back in this space for more to come in the near future, as we develop this aspect of our business.
For now, we invite anyone with inquiries about hosting events to contact us at secretfieldlavender@gmail.com and we will be happy to answer any questions you have.
As a duo bringing together an architect and an event designer who share a love for the arts, and boundless creativity to match it, our long-term vision together for our new life at Bonniespring goes beyond the scope of farming alone. We hope in time to develop an agri-tourism destination and an event space that will answer the question, "what would a merger of art, architecture and agriculture look like?" We want to marry sustainability and aesthetics, in a harmonized, self-sustaining landcape. Until then, we will seek and learn from the wonderful community which already exists to support this type of project. We are learning as we go, and we want to share our questions, our discoveries, and our adventures with you. Please come along for the journey.